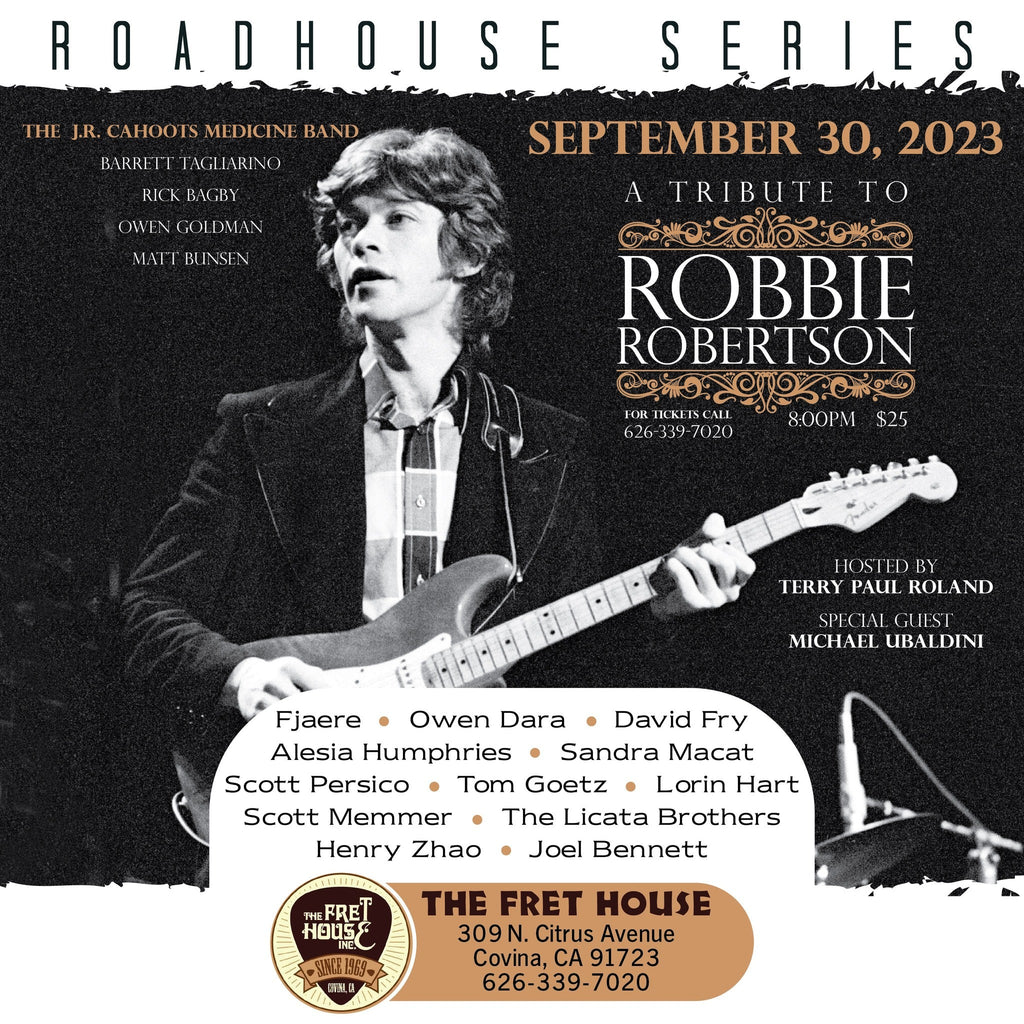 Roadhouse Series, Robbie Robertson Tribute, Sept 30
The Roadhouse Series Returns to The Fret House with a Robbie Robertson Tribute Show
From his first days as a guitar slinger for one of the best rockabilly bands of the late 50s Chittlin' Circuit of the Deep South, Ronnie Hawkins & the Hawks, to his groundbreaking musicianship when Bob Dylan went electric in 1965 and through his innovative days as the visionary songwriter and lead guitarist for The Band to his prolific solo career which includes his now legendary 1987 eponymous debut album.  He has also collaborated with his friend, The Last Waltz director Martin Scorsese including the yet-to-be-released score for his new much anticipated film, Killers of the Flower Moon. 

Robbie Robertson's contribution to the common North American Highway of roots music has taken us down roads we've never been before and left us always wanting more.  When he passed away on August 8th he left us with a such a rich legacy of music, it is only natural for the musicians and artists of the Roadhouse Series to bring to you a tribute to one of the great icons of American & Canadian music who wrote such classics as "The Weight," "The Night They Drove Old Dixie Down," and "Up on Cripple Creek."  

Our special guest for this show will be folk-country roots singer-songwriter, Michael Ubaldini.  He has released critically successful albums of authentic, original country music inspired by the likes of Hank Williams and Lefty Frizell.  Ubaldini runs a monthly live acoustic music series and radio broadcast called Outlaws of Folk Music at Bogart's in Huntington Beach and on KX FM(104.7) respectively.  

Our Roadhouse regulars this month include the finest in L.A. based singer-songwriters and musicians: Fjare, Owen Dara, David Fry, Alesia Humphries, Sandra Macat, Scott Persico, Tom Goetz, Scott Memmer, Lorin Hart, Tony Licata, Jimmy Licata, Henry Zhao, and Deacon Joel Bennett. 
And the J.R. Cahoots Medicine Band: Barrett Tagliarino(music director), Rick Bagby, Owen Goldman and Matt Bunsen
Join us for a warm September night filled with live music and fun at the Fret House Underground.

Doors open at 7:30, the show starts at 8:00.